St. John Vianney - Parish History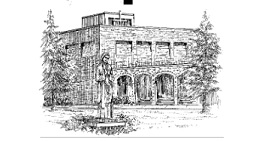 Saint John Vianney Church was dedicated in 1971. Previously it was a Chapel of St. Lawrence Church of West Haven, established as a mission to the Savin Rock area in 1909 by Father Jeremiah Curtin. The Chapel was dedicated on June 5, 1910 and served as a Mission Chapel during the summer months for thirty-one years. Mass was celebrated each Sunday at 8:30 and 10:30 a.m. It was located in the area of the current junction of Savin Avenue and Captain Thomas Boulevard.
In response to the ever increasing population of West Shore, Father Arthur Cavanaugh decided a year round Chapel was warranted. An extensive renovation was conducted under the direction of local architect Herbert Kallert. A permanent foundation was added, along with a heating system and a new interior. Bishop Maurice McAuliffe of Hartford laid the corner stone of the renovated Chapel and placed the newly blessed edifice under the patronage of St. John Vianney, the Cure d'Ars, patron of parish priests.
Archbishop Henry O'Brien appointed Father Joseph W. Reynolds as the first resident priest and Pastor in September of 1965. Shortly following his arrival, Father Reynolds requested and received the aid of an assistant pastor. Some who served in that capacity were Revs. Michael Genovese, Auriel Perrault, Daniel Sullivan and John J. Kevan.
In 1971, plans were made, a building committee was organized, and fundraising and pledges begun. The current building, located on Captain Thomas Blvd, was dedicated on November 7, with the Archbishop John F. Whealon presiding. St. John Vianney Church was part of the Savin Rock Redevelopment project and one of the original five principle residents in the newly created parcel. Tragically the much loved Father Reynolds died in service to the church shortly after the new building was opened.
In keeping with its historic roots to the Savin Rock amusement park, St. John Vianney Parish has for many years run a carnival on or near the fourth of July. In addition, the Saint's Feast Day of August 4th was often celebrated with an outdoor Mass.
The next pastor was Father Francis Karvelis, who in 1985, celebrated the burning of the Church Mortgage at a special anniversary ball. Under his supervision, several additions were made to the physical plant. The indoor Chapel/Crying Room was added with a choir loft above. The kitchen was expanded to twice its size, and two rooms were added between the hall and the garage, which served as meeting rooms, classrooms, as well as a smoke free area for BINGO in the hall. Assistants under Karvelis also included the popular Fathers Ladamus, and Proulx. Father Karvelis was replaced by the Rev. James Kennedy. Father Kennedy was replaced by Father Brinsmade.
St. John Vianney (Our Patron Saint)
Our Patron Saint: (From Catholic Web.com) St. John Vianney, Priest (Patron of priests) Feast day - August 4 universally known as the "Cure of Ars)," St. John Mary Vianney was ordained a priest in 1815. Three years later he was made parish priest of Ars, a remote French hamlet, where his reputation as a confessor and director of souls made him known throughout the Christian world. His life was one of extreme mortification.
Accustomed to the most severe austerities, beleaguered by swarms of penitents, and besieged by the devil, this great mystic manifested an imperturbable patience. He was a wonderworker loved by the crowds, but he retained a childlike simplicity, and he remains to this day the living image of the priest after the heart of Christ.
He heard confessions of people from all over the world for the sixteen hours each day. His life was filled with works of charity and love. It is recorded that even the staunchest of sinners were converted at his mere word. He died August 4, 1859, and was canonized May 31, 1925.
Mass Schedule
Weekend Masses
Sat.: 4:30PM (SJV)
Sun.: 8:00AM (OLOV), 9:30AM(SJV), 11:00AM (OLOV)
Weekday Masses
7:30AM Masses: Mon., Wed, & Fri. (OLOV)
7:30AM Masses: Tues. & Sat. (SJV)